Perception of Factors Affecting Entrepreneurial Intention among Students at Vietnam National University, Hanoi
Hoa Minh Nguyen

University of Economics and Business - Vietnam National University, Hanoi, Vietnam

Hai Ha Thi Nguyen

Trang Quynh Pham

Thanh Thao Thi Vu
Keywords:
Startup, Entrepreneurship Intention, Students, Vietnam National University Hanoi, Hanoi
Abstract
In recent decades, the research field of entrepreneurship phenomenon has significantly increased in both quantity and quality. In Vietnam, although many new types of businesses have emerged, the interest in studying entrepreneurs seems not to be thoroughly investigated. This research aims to evaluate the factors affecting the intention to start a business of students at Vietnam National University, Hanoi. The authors make use of mixed methods including both quantitative research methods and qualitative research methods. The qualitative research method is employed to identify meanings, confirmations, adjustments, and complements for concept-measurement variables in the conceptual model. Quantitative research is conducted from a sample of 236 students of Vietnam National University, Hanoi. Questionnaires have been sent to students to evaluate the measurement scale and appropriateness of the research model. The study identifies six independent variables: (1) Support for startups, (2) Perceived feasibility, (3) Entrepreneurial educational environment, (4) Personal characteristics, (5) Access to finance, and (6) Attitude toward entrepreneurship behavior. However, the results of multiple regression analysis show that 04 out of 06 independent variables had the effect in descending order, as follows: Support for Startups (0.526), Entrepreneurial educational environment (0.419), Perceived feasibility (0.000), Attitude towards entrepreneurship behavior (-0.066). The study shows the difference in entrepreneurial intention of Hanoi National University students by gender, school-year levels, and training majors using independent T-test and ANOVA analysis. From this research, the authors make some recommendations to enhance the entrepreneurial intentions of students at Vietnam National University, Hanoi. In addition, some limitations of the research and suggested research directions for the future are also mentioned.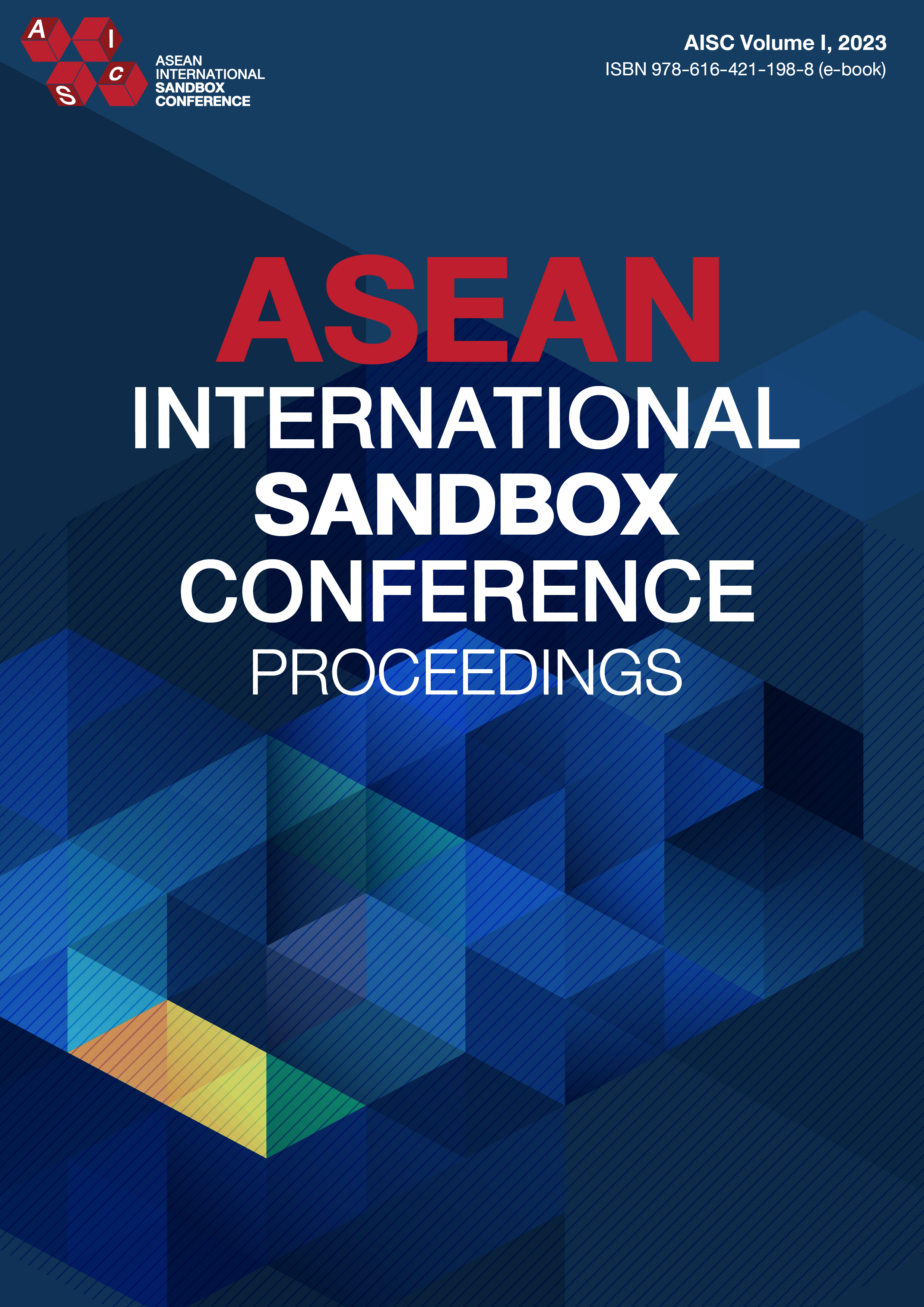 Section
Published Articles
Copyright (c) 2023 Asean International Sandbox Conference
This work is licensed under a Creative Commons Attribution-NonCommercial-ShareAlike 4.0 International License.
Contents and information publish in the sandbox conference proceedings is the author (s)'s opinion and must be the direct responsibility of the author (s). The Sandbox editorial board has no reponsibility to agree or partly or joinly agree with the publishing contents by the author (s).

Articles, information, contents and pictures presented in this sandbox conference proceedings is copyright. Formal writing to request for reuse is required.