The Development of the Cosmetics Business Online
วิธาน อรุโณทอง

อภิรัตน์ กังสดารพร
Keywords:
Cosmetics, Service Marketing Mix, Integrated Marketing Communication
Abstract
Research "The development of the cosmetics business online" is a qualitative research. The objective was to study the channels of distribution in markets including Business Online on cosmetics and to study ways of managing online marketing customers in the cosmetics. The key informants in the research for this study were regular customers who come to the cosmetics shop and one-time customers who use the service to store cosmetic results showed that the reasons for purchasing cosmetics are 4 reasons to buy cosmetic products based on one field. Friends or acquaintances recommended, sales and advise the trial and on that note, have a new product to market. The samples used in the Skincare Makeup and Accessory key reason for the decision to buy the cosmetics brand, since there are reasonable price with quality. The quality of cosmetics as well as getting advice from others. There are a variety of products purchased at and famous brands The media, the key informants known cosmetics brand is your friend, relative or acquaintance recommended. Publications magazines, radio TV and other online social networks like Facebook Instagram.
Research "Developing an online cosmetics business approach" is a qualitative research. With the objective of studying marketing channels including selling in the E-Commerce business towards cosmetics and to study the guidelines of online customer marketing management in the sale of cosmetics The main contributors to this study are regular customers who use cosmetics at the store. And one-time customers who come to use cosmetics at the store Recommended friends or people Sales staff recommend and give trial and when knowing that there are new products to market The sample group used the products in the Makeup group, Skincare group and Accessory group. The main reason that decided to buy branded cosmetics is because of the reasonable price for quality. Quality of cosmetics Including receiving advice from other people There are many products. Convenient to buy And is a famous brand Media that makes the main contributor know about one brand of cosmetics, namely friends, relatives or acquaintances. Print media radio television magazines and others such as online social networks Facebook Instagram
Integrated marketing communication that affects the decision to buy cosmetics online consists of 4 factors: advertising strategy Sales promotion strategy Sales strategies by individuals and public relations strategies with details as follows: Advertising strategy consists of 4 factors, namely advertising via television media. Advertising via the internet, websites, advertising through print media such as magazines and advertising through billboards Sales promotion consists of 6 factors, namely, discounts when purchasing 2 items, giving special privileges to members. Special discounts for members, plus products, variety of activities and distribution of product samples for trial Sales strategy, consisting of 3 factors, namely convenience and speed of service Promotion Promotion and advice and answer questions about product information. The public relations strategy consists of 3 factors, including the interview of the supplier. And the mention of cosmetics products by celebrities, actors, bloggers or famous people.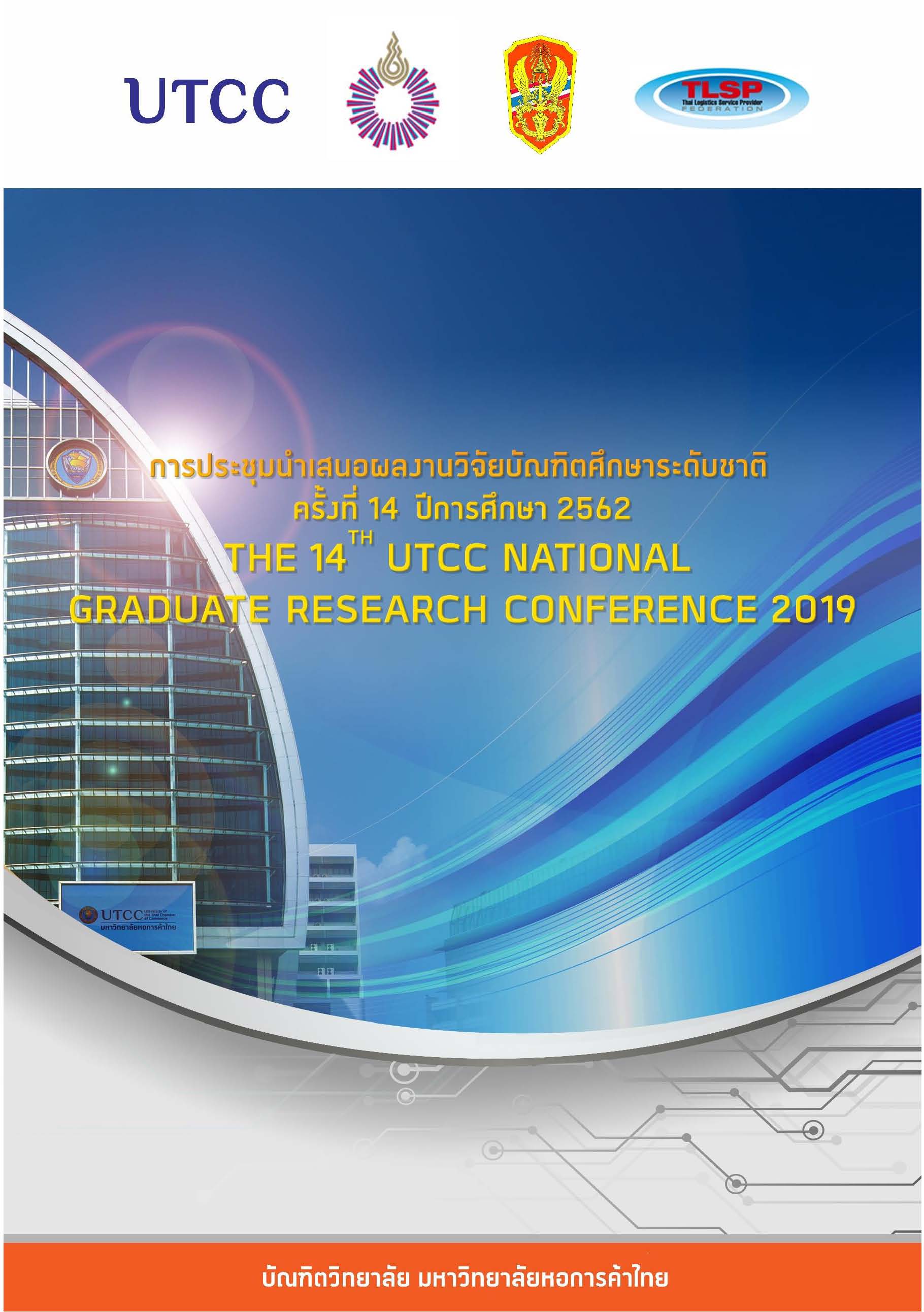 บทความทุกเรื่องที่ตีพิมพ์เผยแพร่ได้ผ่านการพิจารณาทางวิชาการโดยผู้ทรงคุณวุฒิในสาขาวิชา (Peer review) ในรูปแบบไม่มีชื่อผู้เขียน (Double-blind peer review) อย่างน้อย ๓ ท่าน
บทความวิจัยที่ตีพิมพ์เป็นข้อค้นพบ ข้อคิดเห็นและความรับผิดชอบของผู้เขียนเจ้าของผลงาน และผู้เขียนเจ้าของผลงาน ต้องรับผิดชอบต่อผลที่อาจเกิดขึ้นจากบทความและงานวิจัยนั้น
ต้นฉบับที่ตีพิมพ์ได้ผ่านการตรวจสอบคำพิมพ์และเครื่องหมายต่างๆ โดยผู้เขียนเจ้าของบทความก่อนการรวมเล่ม