STUDY OF OPTIMIZING THE PURCHASING PROCESS TO INCREASE BARGAINING POWER WITH SUPPLIERS: CASE STUDY OF ABC NATIONAL (THAILAND) CO., LTD
พรหมภัสสร ปุญญบาล

วรินทร์ วงษ์มณี
Keywords:
Procurement, Compare price, On time delivery, Minimum order
Abstract
The research subject optimizing the purchasing process to increase bargaining power with suppliers Case Study of ABC International (Thailand) Co.,Ltd. to group premium suppliers to suit product type and order quantity. To reduce the procurement process of premium products and repeat the order frequently, to know the estimated demand for advance use. To set the purchasing guidelines. And reduce mistakes in purchasing premium products. By implementing the ABC Analysis tool to group suppliers. According to the order quantity from January 2014 - December 2016, and bring Group A suppliers accounted for 78% of the total order quantity. To meet the criteria of the selection of suppliers of the company. It is divided into 4 aspects: delivery quality price and innovation and a full Plan Year for the marketing department to fill the amount and demand for basic products to the procurement. The Price Agreement, which the Purchasing Department can bring the demand for goods all year. Negotiate with the supplier and Cleansing Data is a structure for Mat Code as standard.
A study conducted by ABC Analysis navigational tools used to group suppliers. The amount of the order evaluation criteria used in the selection of suppliers of the company. Make note of and demand for primary products. When informed of and demand for goods. The data were prepared in the Price Agreement which procurement can be used year round demand. The negotiations with the suppliers. The bargain is the sum total of the year. And negotiating the gradual delivery of products to meet a quarter of the marketing department and the Cleansing Data is prepared for the Mat Code up to standard. Can reduce the process of procurement. When the marketing department wants to hook up product Mat Code is based on the product being prepared. By the way procurement is not required to check the details again. Mat Code and can clear the data in the system, but Mat Code of goods and reduce the number Mat Code.
The results ABC Company Ltd. (Thailand) from the preparation of operational plans for the year. Procurement can be planned in order. You can reduce the steps in the operation. From time operation reduced to 27-45 days, 15-26 days, reducing redundant work. And can bring the plans to agreement on price with the supplier by ABC Company Ltd. (Thailand) with a total cost of 15,430,160 baht purchase agreement on price. Can reduce the cost of purchase 12,983,330 baht, accounting for 18.8%, and data from January to March 2017.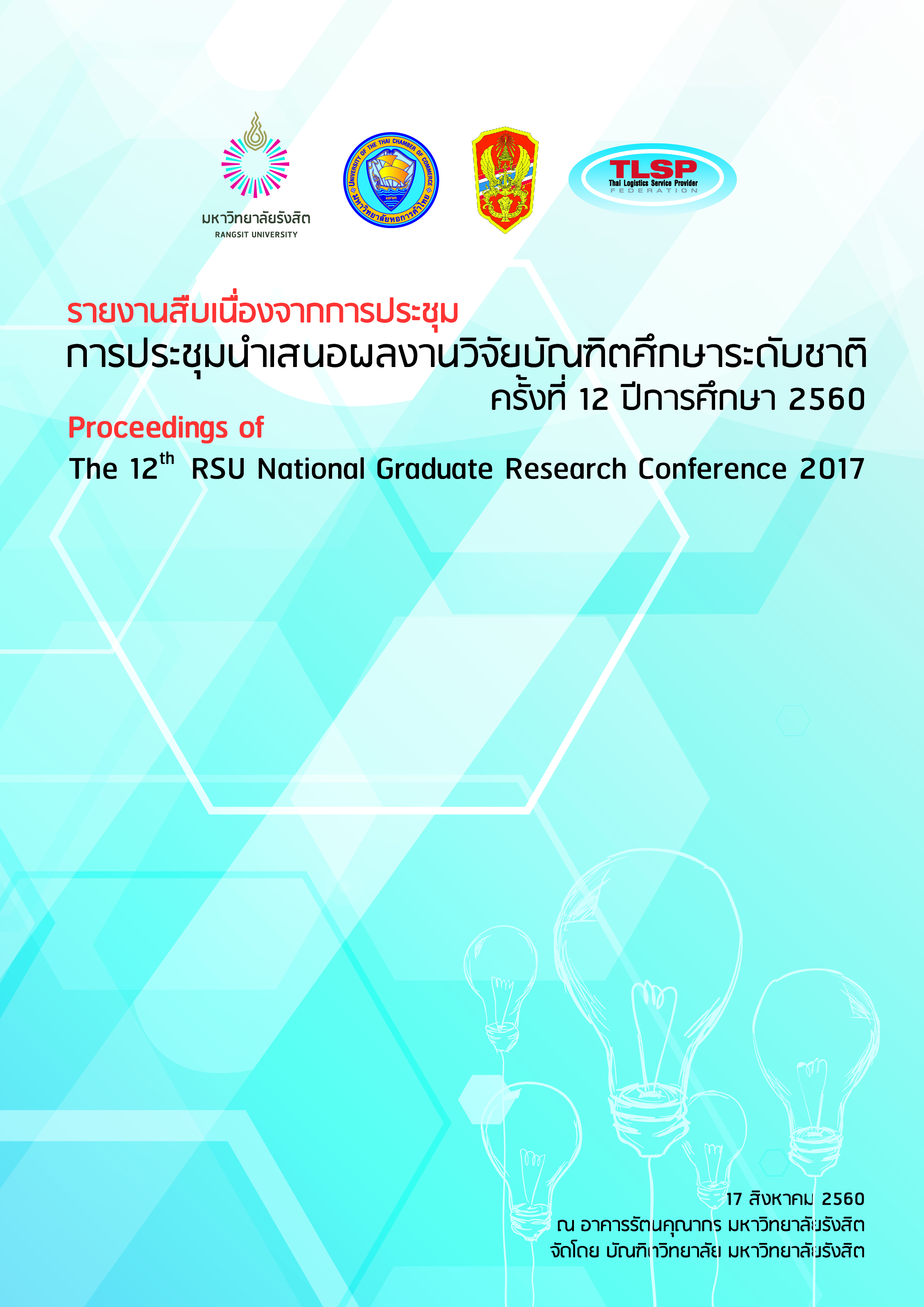 Section
Business Administration and Management Articles
บทความทุกเรื่องที่ตีพิมพ์เผยแพร่ได้ผ่านการพิจารณาทางวิชาการโดยผู้ทรงคุณวุฒิในสาขาวิชา (Peer review) ในรูปแบบไม่มีชื่อผู้เขียน (Double-blind peer review) อย่างน้อย ๒ ท่าน
บทความวิจัยที่ตีพิมพ์เป็นข้อค้นพบ ข้อคิดเห็นและความรับผิดชอบของผู้เขียนเจ้าของผลงาน และผู้เขียนเจ้าของผลงาน ต้องรับผิดชอบต่อผลที่อาจเกิดขึ้นจากบทความและงานวิจัยนั้น
ต้นฉบับที่ตีพิมพ์ได้ผ่านการตรวจสอบคำพิมพ์และเครื่องหมายต่างๆ โดยผู้เขียนเจ้าของบทความก่อนการรวมเล่ม